Good weather again at the weekend, so we went out on another walk. This time there wasn't nearly as much wildlife to photograph, because Rendlesham Forest appears to be more visited than Sudbourne Marshes are. But still, got a few photos and another 7 geocaches 🙂
Day 9
I remembered I had the My Tracks app on my phone not long after we set off, so I used that to map where we walked: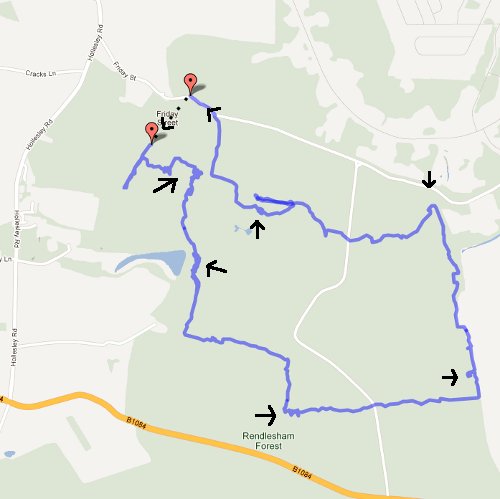 The app said it was a 4.5 mile walk (and our pace was slow because we kept stopping to look for the caches). The caches we found were the 6 ones of the Daisys Walk set ("Daisys Walk 1" etc), and "Friday Street" which is the name of the tiny village near where we parked the car. These caches were a bit more hidden than the ones we did around Sudbourne the weekend before, probably because the area is busier and so there'd be more risk of them being stumbled over by people who didn't know what they were.
Day 10
That wasn't the only trip out at the weekend – it was about time we took our empty bottles to the tip, so J wanted to reward himself for this virtuousness by going and getting a few more caches. There's a brand new one near the Tescos at Martlesham ("Cache N Shop!"), and a couple in the woods nearby ("Burnt Tree" and "Fallen Tree"). I didn't realise there were woods so near that Tescos, and as we walked to the caches there we saw a map & leaflets for a 5 mile circular walk round Martlesham & the surrounding area. (Checked when we got home & there's not many caches for me to bribe J out on the walk with, but I'd still like to do it at some point – could get the bus out to Tescos then get a pub lunch at the Red Lion halfway round.) And on the way home we also stopped off at Brightwell for the last of the weekend ("Church Micro 2825 – Brightwell").