The new Rock Band game came out on my birthday! 🙂 It's a return to more of the pre-Guitar Hero gameplay from Amplitude which was a game Harmonix released about 10 years ago – I remember we were playing it on the New Year's holiday we took with Rachel, Ellen, Gordon & Ainsley and that was New Year '03 iirc. So there are no fancy controllers needed, you play it with the standard PS3 (or Xbox) controller, and it's a single player game as far as the actual playing experience goes.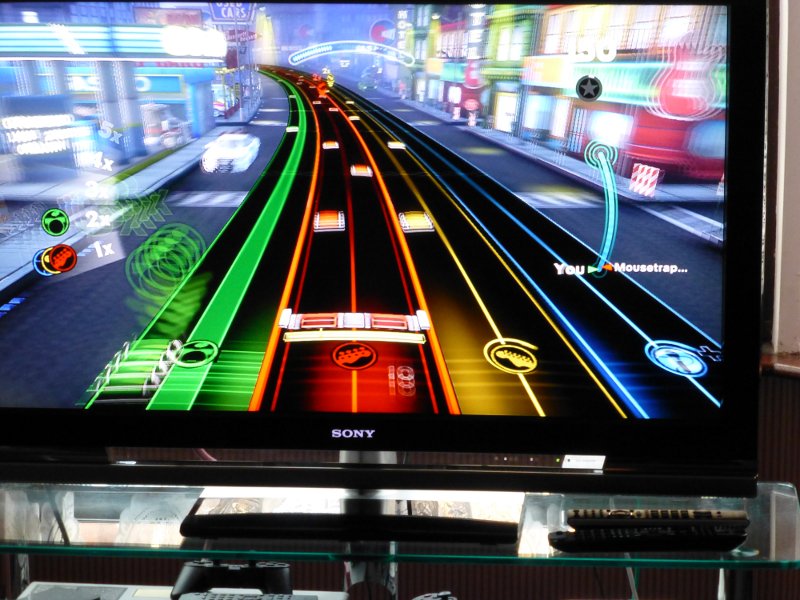 Dreadful quality picture of J playing Rock Band Blitz.
You move between the different tracks (drums, guitar etc), and on each track you have to press the two buttons in time with the displayed pattern (which is generated to feel "right" for the sound of the part). Unlike Amplitude all the parts are playing all the time, with the track you're on being higher in the mix. As you play notes in a track you increase the multiplier up to the cap for that track. Then at a checkpoint the multiplier cap is raised based on how far up the lowest track is – so you try to make sure each track multiplier is maxed out before the checkpoints. And you score for every note correctly hit – so you try & play tracks with lots of notes. There's no concept of failing, it's just higher or lower scores at the end.
At the end of a track you get your stars/points for the track and also "Coins" and "Blitz Credit". The credit just unlocks the power-ups you can choose from, and that seemed to happen quite quickly, and I don't really see the point of it after that. Coins are more interesting and are tied in with the power-ups. You have 3 power-up slots for 3 different types, and before starting a song you decide whether to use a power-up in each slot, and if so which. It costs coins to assign a power-up to a slot, and at the end of the song each star earns you 100 coins. So you have the choice of not using any power-ups and getting a lower score but gaining more coins, or using power-ups so getting a better score but maybe still losing coins. They can tweak that economy server-side (and have done so already) so they can find a balance between having to grind too much or having power-ups be too cheap (and thus coins irrelevant).
The three sorts of power-up are those you have to build up energy to use, those that rely on you hitting specific special notes & those that increase the score of notes on a particular track. My current loadout tends to be the Bandmate energy power-up (set it off on one track and play another, earn points from both while the power-up runs); Flame notes (hey, I'm a pyro – but it's also high scoring if you get it right, hit a flame note & get a score bonus and also set fire to another one, perhaps on a different track, hit that & get a higher bonus and set fire to another one etc); and a points-increaser on whichever track has most notes.
It comes with a set of tracks, and it works with all the Rock Band DLC or exported songs from previous games. That means J & I have ~500 songs to choose from right away. The Blitz tracks will also work in Rock Band 3 (tho we've not been to play them in that yet). The only thing you don't get is the Rock Band 3 tracks to play in it, as there's no way to export them (yet?). It also gives a different perspective on buying more DLC tracks, as there's some where we like the song but haven't bought the DLC because it looks like a pain in the arse to play in Rock Band, but now we can get them for Blitz.
The multiplayer, and replay value, of the game comes in the competitive scoring. As well as always making it clear what the rankings are among your console friends, it also has Score Wars – for these you challenge a friend (or a random stranger) on a particular song, and over the next 3 days you each try to beat the other's score. You get Coins & Credit for doing so – and a lesser amount for losing. If the other person never plays then that one is forfeit & no-one gets anything. These are pretty good for getting you to replay a track several times looking for the ways to squeeze just a few more points out to beat the other guy – J & I have done several so far (he normally wins, but I've got one at the moment where I think he's not going to beat me ("I Turn My Camera On" by Spoon) as I'm ~40k points ahead of him and we're #1 & #2 on the worldwide PS3 scoreboard at the moment 😉 (OK, there's only ~120 people on the scoreboard for PS3+Xbox combined & it's an easy song, but still, I think I got bragging rights 😉 ).
It also hooks into a Facebook app, that lets you see stats & such (which is where I got the number of people on the combined scoreboard for that Spoon song from). And that also lets you set "goals" which earn you more coins when you complete them (like get 12 stars in a particular genre across as many songs as you wish). And it lets you set up score wars with your facebook friends (if they're on the same platform).
Like all Harmonix games it seems to've fallen down just a little bit on the social/multiplayer side of it, I don't know how come they consistently seem to just not quite make it work well, but once again they've mananged it. My niggles are that from the game itself you can only start Score Wars with the person & song it's recommending – and it doesn't seem to perform any check for if they have the full game or have just played the demo. And it doesn't perform any check for if they own the song you are challenging them on. So the automation actually means you have a decent chance of filling up your Score War slots (you can only have 10 at any time) with useless ones. At least they only last 3 days before they expire. It also seems fixated on some of our songs – almost all the recommendations I'm getting are for Spoon songs and Bob Marley songs, sometimes repeating one that J & I have had a score war on before. You'd think with 500 songs there'd be a bit more variety (perhaps it shouldn't actually be random, perhaps they should've weighted it towards things you haven't played before or haven't played recently). Some way of manually choosing person and song would be good, you can on the facebook app so they've thought of it in one context, just not this one.
As well as this the facebook app doesn't seem to quite work properly – you should be able to join together to do a goal in a group, and when J & I tried that it didn't actually seem to work, it put us in seperate groups. And once you've started a goal you can't join someone else's group to do it. That may've been fixed, Score War display in the app seems less flaky now than it was on release so perhaps some work happened behind the scenes.
However, niggles aside this is a good game! Both J & I have been playing a lot since we got it. And at under £10 we've had our money's worth several times over 🙂 Definitely recommended if you're at all into music/rhythm games.