A couple of weeks ago we went to our second concert of the year. Crimson ProjeKct are not King Crimson, but they contain three people who've been in various King Crimson line-ups (namely Adrian Belew, Tony Levin and Pat Mastelotto) and they have King Crimson's blessing to tour King Crimson material. So J jumped at the chance to get tickets for this concert as it might be the closest we'll get to seeing King Crimson live.
The show was at Shepherd's Bush Empire and I'm not that fond of it as a venue. I'd wondered if it would be different for a seated gig, as my issues are mostly about how difficult it is to see anything there, but it wasn't much better. The stage is too low, and the floor isn't sloped at all, so everyone else's heads get in the way, and they'd lined the seats up so you were sitting directly behind the person in front. Still my least favourite London venue …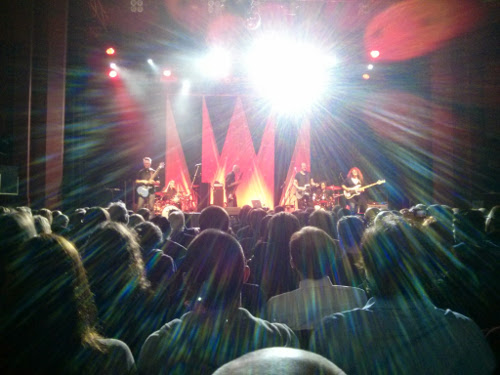 The band is composed of two trios. One is The Adrian Belew Power Trio – who I thought of as the "having a fantastic time" trio because all three of them looked like they were really, really enjoying being part of the concert. Notably they have a female bass player, which is notable partly because of how surprised I was that there was a woman in the band. The other trio is Stick Men – who I thought of as the "funny instruments" trio, Tony Levin plays chapman stick most of the time, Pat Mastelotto augments his drum kit with a variety of odd objects, the "guitarist" played something that didn't quite work the way a guitar normally does. Instead of performing first as each trio, then all together (as they'd done on some previous shows) they mixed things up a bit. So we'd see some of one trio (playing their own stuff and King Crimson stuff), then some of the other, or some of all together. This meant that all the performers got regular breaks, so we actually had a three hour set without an interval.
I'm not, to be honest, that much of a King Crimson fan. On record quite a lot of it tends to pass me by – it's all about the technical virtuosity and I'm very focussed on songs when I listen to music. But there are also several "proper" songs that I like, and we got some of them during the evening. The ones that particularly stand out in my memory are Dinosaur (one of my favourites), Elephant Talk and Indiscipline. The last of these is a song I like (once the words start) and it also included a drum – duet? duel? – it was hard to tell which. The two drummers would each in turn play a bit making it as complicated as they could, then seamlessly switch to the other drummer who'd try and top the previous section. And somehow they also made it an interesting piece of music that flowed and so on, despite being improv (and almost all drums). On record I'd've been bored by it, but watching it was awe inspiring!
I'll finish this post off with a youtube clip – this was recorded about a week before I saw the band, at their Tel Aviv show: